Completion of safe packaging training
and an average of 15 years
GLS KOREA Packer safely
packs your cargo.
Easy and fast anywhere in the country!
You can receive
professional consulting
for overseas moving for free.
GLS KOREA's unique local service
A Korean manager is
with you anywhere
in the world
* Different countries. Contact the person in charge.


Based on long know-how, GLS KOREA
Promises fast and stable cargo transportation.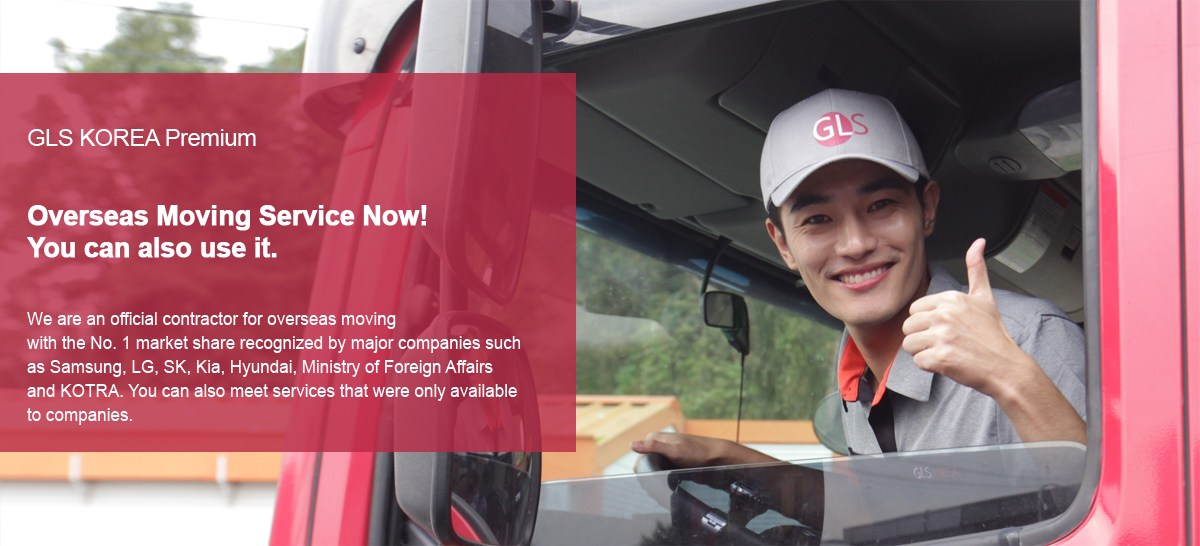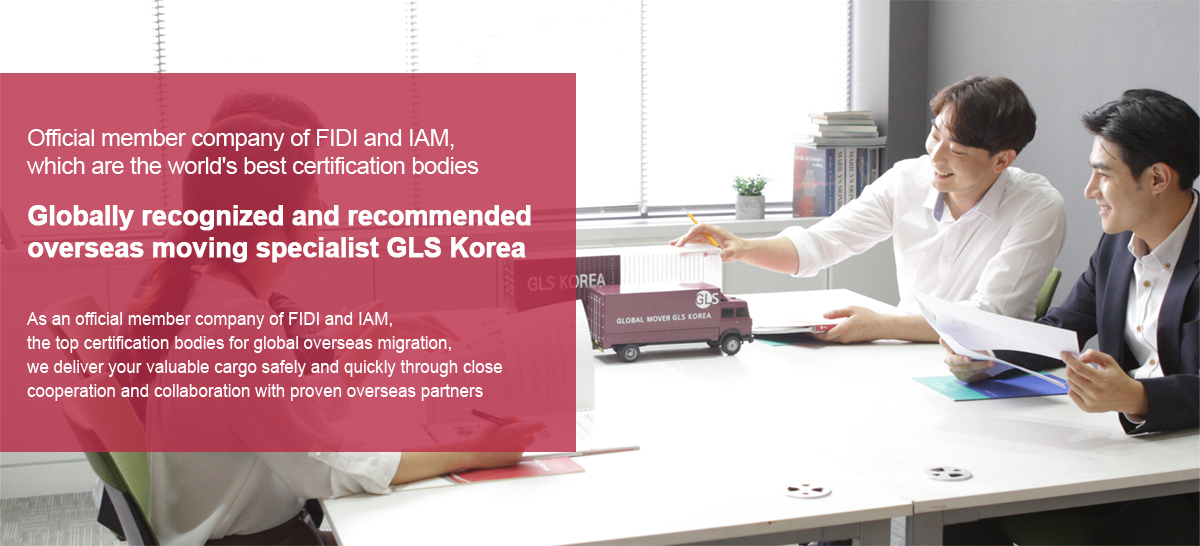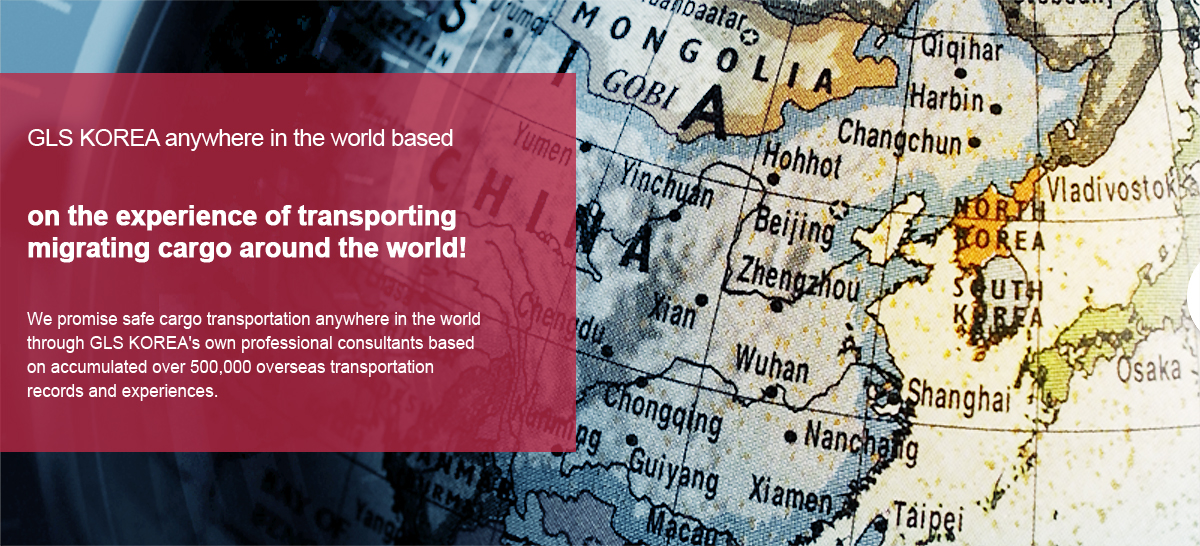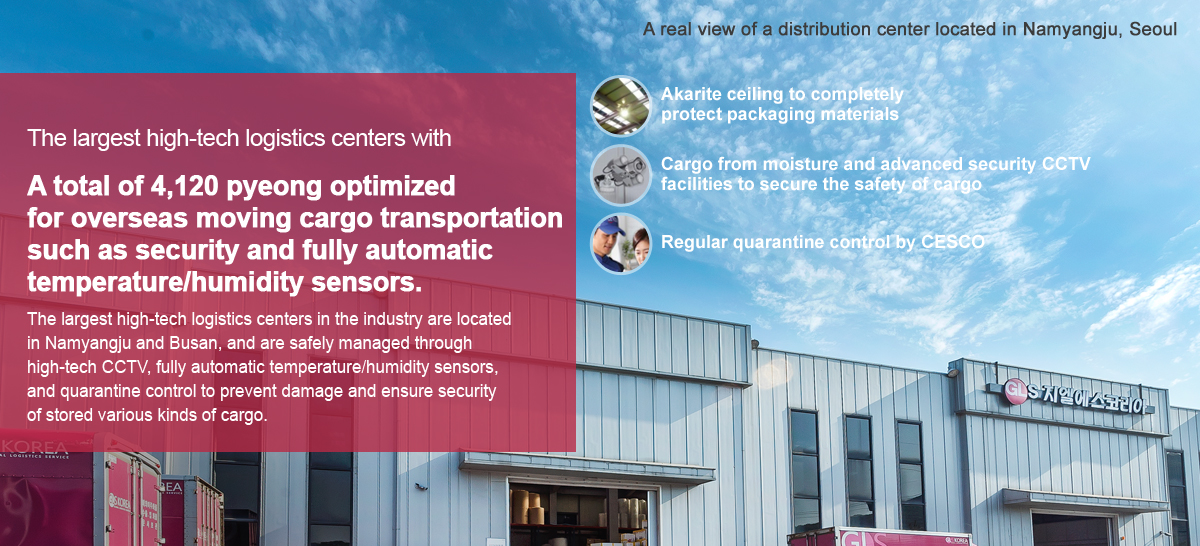 The maximum value of GLS KOREA is to safely!
transport your cargo!
Full-time employees who have completed
Safe packaging training / Average experience of 15 years or more
Industry's highest strength and waterproof coating outer packaging materials
Special inner packaging materials optimized for cargo characteristics
Special protective materials to prevent damage to residential spaces
Industry's lowest premium rate
Korean manager
local service

Remaining cargo
transportation service

Free storage
at distribution
center

Advance payment of
compensation

Free airport
call van
service

Free immigration
bag & trans
Local service unique to GLS KOREA
A Korean manager will be with you in the local area
A Korean manager of GLS KOREA will accompany you until the end of the service in order to solve the inconvenience such as communication during the delivery service to overseas destinations.
※ There may be restrictions in some countries.
GLS KOREA
Do you have any remaining cargo after packing?
After moving overseas,
we will also transport the remaining cargo to the desired location.
After packing, you transport the remaining cargo to the collecting place in the complex. In addition, we provide short-distance transfer service for small-sized cargo to provide customers with cost savings and convenience.
GLS KOREA
Need to keep your cargo due to a moving schedule?
GLS KOREA Distribution Center Free Storage Service
Don't worry about the situation
where the contract period and customs clearance
documents are not ready.
If you're a GLSKOREA customer, within a high-tech distribution center, Free storage service for overseas migrant cargo is available.
※ Free period : 1 month / Logistics Center: Namyangju,
Busan Logistics Center
GLS KOREA
Complex insurance processing faster!
Prepaid service for compensation of less than USD 1,500
(the largest amount in the industry)
GLS KOREA provides a 1:1 customized service through its own insurance compensation team, and provides faster and more convenient insurance finance through prepaid service for compensation of less than USD 1,500.
※ Criteria for prepaid compensation amount: less than USD 1,500
GLS KOREA
We even consider the hassle when you leave Korea.
We will take you to the airport comfortably with a call van service.
To alleviate the hassle of moving to the airport on a busy schedule, we consider your convenience once more by providing a call van service to the airport.
※ It is available only in the metropolitan area, and is provided only
when transporting one container as migrating cargo
GLS KOREA
Providing free gifts for customers
Providing immigration bags & trance necessary when moving abroad
For GLS KOREA customers,
we provide a 3-stage immigration bag or trans
(transformer) necessary for overseas moving
for free.
※ It is provided only to individual customers.
GLS KOREA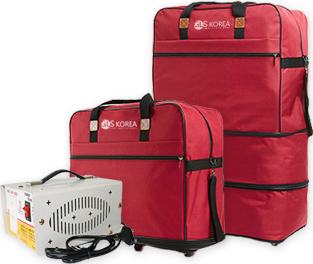 ※ The free gift may be different from the product photo.
Service
Process
Shipping and transportation
Visit |PRE-MOVE SURVEY
GLS KOREA's professional consultants visit and provide free quotes and detailed information for each country,
and provide 1:1 customized service until local delivery.
01

1:1 customized service provided by a professional overseas moving consultant.

02

A free visit quote from anywhere in the country on the date you want.

03

Detailed customs clearance information by country and overseas moving guide.
Packing |PACKING SERVICE
A professional packer who has completed GLS KOREA's professional training promises safe packaging and transportation of your cargo with a sense of responsibility through specialized packaging materials for each cargo and a responsible real-name system.
01

Full-time employees of GLS KOREA who have completed safety packaging education and kind response education.

02

Use of special packaging materials optimized for moving environment and cargo.

03

Operation of a loss prevention system by operating a numbering system for each packaged cargo.

04

Realization of safe packaging through responsible operation through a responsible real-name system.
Warehousing |WHAEHOUSING
GLS KOREA's advanced logistics center of about 4,120 pyeong, which is the largest in the industry, stores your valuable moving cargo safely with specialized logistics facilities and security systems for migrating cargo.
01

Self-operation of the industry's largest advanced logistics center (Namyangju, Busan).

02

Prevention of loss with state-of-the-art security system facilities (SECOM).

03

Safe storage of goods with the introduction of quarantine facilities (CESCO).

04

Namyangju, Busan logistics centers providing free storage service for 1 months.
Shipping and transportation |SHIPPING
Professional staff with more than 500,000 shipping experiences over many years promises fast and safe transportation through the optimal sea and inland transportation routes tailored to your desired schedule.
01

Realization of safe and rapid transportation by minimizing transshipment through first-class shipping company.

02

Prevention of various accidents and quick response by operating an overseas transport control center.

03

State-of-the-art cargo tracking system "CARRY HOME"-Provides real-time cargo location.
Local delivery |DELIVERY
Member of FIDI, the world's top certification body
GLS KOREA provides a convenient overseas moving environment even in the local area through more than 600 verified global partners around the world.
01

Verified as a FIDI member company, and operating a reliable local partner.

02

Korean managers provide high satisfaction through local service.

03

Providing perfect service even in the local area from assembly and positioning.

04

Service quality improvement and customer management through service satisfaction survey.
Insurance compensation |CLAIM CARE
We provide quicker and more convenient insurance compensation services by pre-paying compensation of less than USD 1,500 in order to prevent customer discomfort even in the local area.
01

Providing rapid processing through 1:1 customized insurance manager.

02

Providing advance payment service for compensation amount up to USD 1,500.

03

Providing compensation service through global insurance group CHUBB.

04

Maintaining the lowest insurance rate in the industry verified by accumulated data.
GLS KOREA Overseas Migration Service
Check out the actual customer reviews.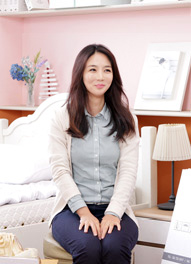 "Moving overseas easy and safe with
GLS Korea"
My husband went abroad as a expatriate for the first time, so there were many things to worry about from finding a local house, children's school and moving. Luckily I met GLS and happened to move overseas easily and safely with GLS service.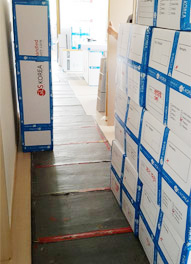 "No reason, not to choose GLS Korea"
The most worrisome part of the moving overseas was the cost, and I was very grateful that you disclosed all the costs transparently with a transparent estimate. Also GLS Korea explained each expense specifically for people who have no experience in moving overseas. We are planning to use trusted GLS Korea service again.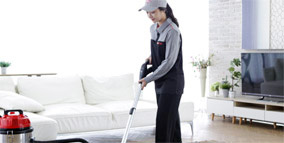 "Perfect care until moving is
over"
I've heard that small overseas moving companies have poor service quality and claim management process to reduce costs, but I was so happy that GLS Korea made my moving perfect and provided advance payment for compensation for any claim after the moving was over!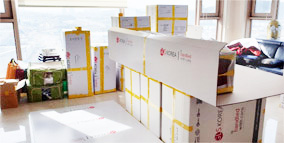 "No need to worry about
damage!!"
I felt that moving overseas is completely different from domestic ones. It seemed like it needed technologies and extra skills to do so. And GLS Korea's packing and delivery skills were outstanding! Thanks to GLS Korea's skills and experience, it was perfect and safe moving without any damage made!!
Are you planning to move abroad?
Contact GLS KOREA easily!
Customer Center
+82 02.
722.5577
FAX
+82 02.7222.5578
Consultation time
AM 09:00 ~ PM 18:00
(Closed on weekends and holidays)
Lunch time
PM 12:00 ~ 13:00